Step 2 - Pipe Rail Support
What you need
1 piece 8' 2x6
3/4" plywood scraps
10' long black metal pipe
drill bits
If you want a circular rail (like coping on a halfpipe, usually preferred by aggressive inline skaters), make one side like described below. If you want both sides to be corner rails (possibly to spite aggressive skaters or to fulfil a symmetrical fetish), ignore this part and repeat step 1.
For the pipe rail side you use 2x6 studs instead of 2x4, so cut the 2x6 into seven pieces that are 8.25" long, and screw them into one of the 10' 2x4's from step 1 like so.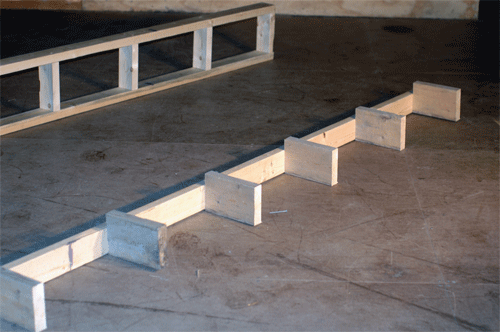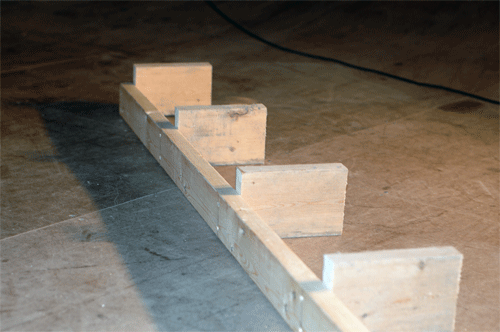 Screwing in the top 2x4 is a little tricky, look at the picture below for where I ended up screwing it in, ignore everything but the top 2x4 in this picture, I haven't explained it yet.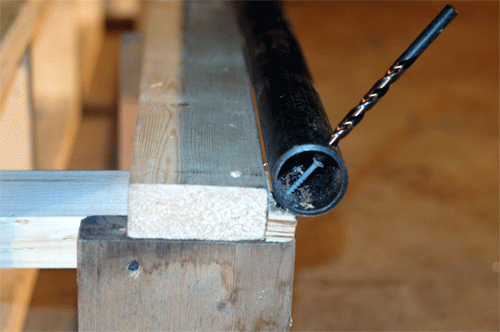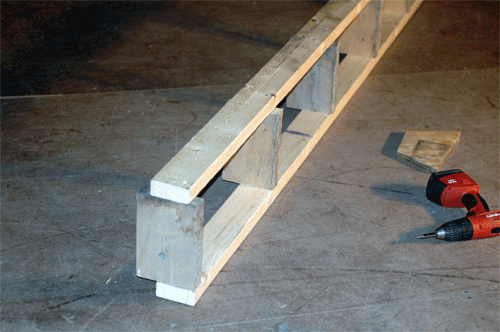 It helps to get a view from the side and remember that there will be 3/4" plywood on both the top and side of the box, it's up to you how much you want your coping to stick out the top and side. A trick is to take a 3/4" scrap and look at it from the side to get a view of how the coping will rest. Note that the 2x4 is not in its final resting place in this picture.
Next take some scrap 3/4" plywood (you can wait until after you have made some plywood cuts to do this part) and screw them on top of each stud, in the small offset area that the 2x6 sticks out.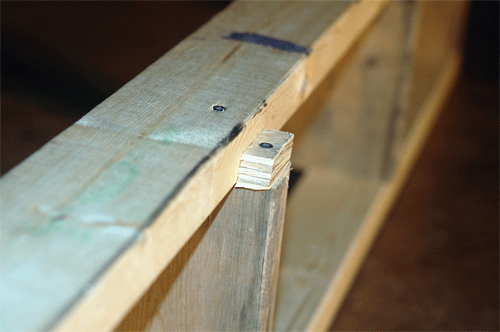 Now you have your resting place for the rail. Take a bit large enough for a screw head to fit through and make holes through one side of the rail at each stud. Then take a bit large enough for the screw point side to fit through and again drill holes at each stud, go through the big holes you just made. You can now screw your coping in place, use an extended philips bit to reach through the top hole. Note you can also wait until the plywood is on to screw in the rail.