Project Page
T's halfpipe
By boardheaddad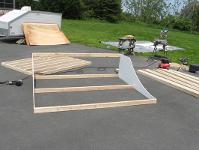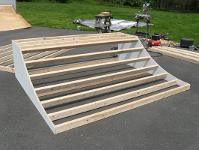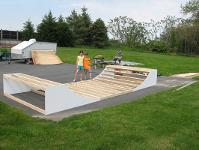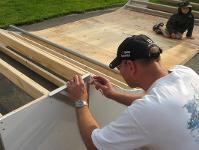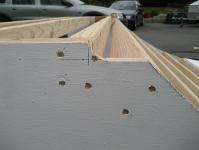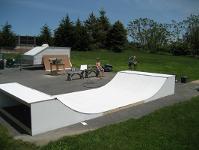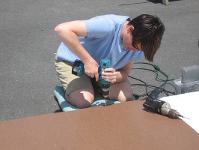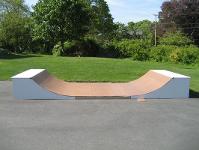 Notes
My wife and I built this over Memorial Day weekend. We still need to move it to the other side of the driveway, block it and level it, apply final coat of primer /paint on deck, and possibly add some rails to the deck.

I designed this primarily for a 7 year old, so I didn't want to make it too radical. I based it on some of the pipes I saw on these project pages, like the "basement mini ramp" and some others.

Thanks to the project pages; they were extremely helpful in determining my design, so I'm posting this with the hope that it will help others. Note lumber prices have spiked in the last year!

Transition radius = 75
Ramp height = 24
Platform length = 24
Flat bottom = 72
Flat bottom height = 3.5

Materials list:
(3) sheets 3/4 ply
(5) sheets 3/8 ply
(5) sheets 1/4 masonite
(33) 8' 2x4s
(2) 1.5" pvc 10' conduit
Box of 3" nails for nailgun (already had them in the shop)
Box of 2.5" ss square head deck screws (already had them in the shop)
(3) gallons kilz primer
(1) gallon behr porch paint

Materials cost = $550

Time to build = 20 hours (2 adults) not including final coat of paint, which will be done next weekend.


Build Date
May 2009
Location
Contact