Free Vert Halfpipe Plans
| | | |
| --- | --- | --- |
| | 8 Foot Vert Halfpipe | |
| | |
| --- | --- |
| Height | 8'0" |
| Width | 16' |
| Length | 35' |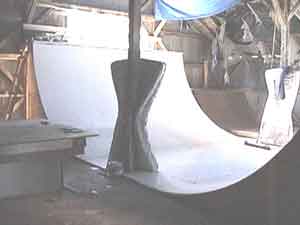 Free plans for a vert halfpipe ( these are the first plans on the site, made when I was in 7th grade )
I was able to build this ramp because a skatepark near me closed down and asked if they could store the wood in Barn #3. I took two 8' quarterpipes and put them together in the other barn. I made a free geocities website to put pictures of the halfpipe, as well as the following plans.
These plans are not very good. They are the first plans that I created and I have not edited them since 1999. I would not recommend building an 8' halfpipe this way, it is overly complicated. To see a better way to make a ramp this big check out this project page. I've decided to keep the plans online, since there are not a lot of step by step instructions out there for building a vert ramp. Unfortunately I cannot improve the plans without building a new vert ramp. Someday I will do this, but not for a while.
Wood and Screws
172 pieces of 8' 2X4.
24 pieces of 8' 2X6.
24 pieces of (3/4) inch plywood.
32 pieces of (3/8) inch plywood.
16 pieces of (1/8) inch massonite.
A lot of 2.5" drywall screws
4 pieces of 8' long 2.5" diamater metal coping

Tools required
Drill (bits to match screws)
Power Saw
Tape measure
leveler
90 degree angle edge
pencil
chalk (string to make straight lines)
The Free 8' Half Pipe Plans
1+2.
Build the quarterpipe skeletons
3.
Build 4 platforms
4.
Build 4 Supporters
5.
Build 4 back walls
6.
The Flat Bottom
7.
Coping
8.
Put it together
9.
Plywood