Free Mini Ramp Plans
Plans for how to build an indoor mini ramp halfpipe. This halfpipe can be separated into three pieces so that it is possible to move. The height of this ramp is 3' 5", you can make it any height under that. The width is 8' and can be easily adjusted. The Length is 24', it has 8' of flatbottom and the platforms are 2' long.
Testers appreciated!
xtremeskater.ofmath.com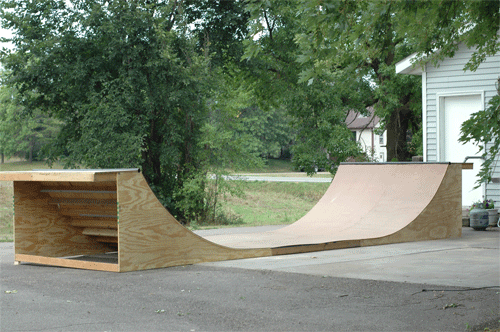 Materials required
| | | |
| --- | --- | --- |
| Quantity | Material | Price |
| 45 | 8' 2x4 | $2.75 |
| 3 | 4' x 8' sheet of 3/4" plywood | $25 |
| 6 | 4' x 8' sheet of 3/8" plywood | $11 |
| 6 | 4' x 8' sheet of 1/4" massonite | $11 |
| 2 | 8 feet long 1.5" diameter metal pipe | $18 |
Total Cost: $376.75
The Free Mini Ramp Plans