Project Page
Mini Ramp
By kgskate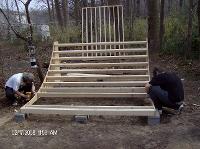 Notes
Will upload more photos soon!

This was built on feburary 15 - 18th.

Its being finished with a second platform and perfect coping soon.

We used 3/8's plywood for surfacing. With Lauan on top(not sure of the correct spelling)

The centerblocks are sunk into the ground to make an even work space.
Location
Elizabeth City, NC
Contact